Deals activity: North America sees significant decrease in volume; deals down across most sectors
Deals activity by geography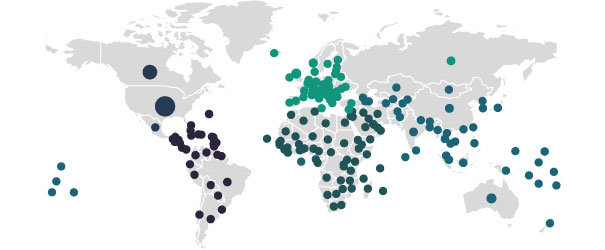 Oil & gas industry deals, as captured by GlobalData's Oil & Gas Intelligence Centre, are down year-on-year (YoY) across nearly all regions.
North America is leading in terms of deal value but also recorded the most significant decrease in YoY growth in deals volume, at -23%. South and Central America on the other hand, recorded the highest growth despite ranking second to last in terms of deal value, seeing deal volume increase by 22% YoY.
The volume of deals recorded by GlobalData also decreased YoY in Middle East and Africa (-9%), and Europe (-2%). However, Asia-Pacific saw growth of 13%.

Deals activity by type
| | | | |
| --- | --- | --- | --- |
| Deal type | Total deal value (US$m) | Total deal count | YoY change (volume) |
| Acquisition | 4734055 | 13923 | -56 |
| Debt Offering | 4236701 | 8607 | 49 |
| Asset Transaction | 2173568 | 24492 | -10 |
| Equity Offering | 1754051 | 15217 | -32 |
| Private Equity | 471619 | 2829 | 14 |
| Merger | 115421 | 461 | 167 |
| Venture Financing | 25673 | 2022 | 13 |
| Partnership | 12916 | 3462 | -99 |
A breakdown of deals by type and volume shows a general downtrend, with acquisitions down -56% YoY, partnerships down -99%, and asset transactions down -10%. Mergers, however, are up 167%,. Financing deals have fared slightly better; while equity offerings are down -32%, venture financing is up 13% YoY and debt offerings are up 49%.
Deals activity by sector
The most notable development apparent in GlobalData's analysis of oil & gas industry deals by sector is the significant decrease of deals in upstream. While it remained the leading sector by deals volume, it has also seen the greatest drop in volume YoY. The Equipment & Services and Midstream sectors also saw declined deals, though far more minor. Downstream and Petrochemicals however, saw increased deals volume.
Note: All numbers as of 23 November 2020. Deals captured by GlobalData cover M&As, strategic alliances, various types of financing and contract service agreements.
For more insight and data, visit GlobalData's Oil & Gas Intelligence Centre.
Latest deals in brief
PetroRio acquires stake in two Campos Basin offshore blocks from BP
Brazilian oil and natural gas exploration and development firm PetroRio has acquired a stake in two pre-salt offshore blocks in Brazil's Campos Basin from oil major BP. Petro Rio would acquire a 35.7% interest in the BM-C-30 Block comprising the Wahoo discovery, and 60% in the BM-C-32 Block, containing the Itaipu discovery.
FAR to sell stake in Senegal's RSSD project to ONGC Videsh Vankorneft
Australian oil and gas exploration firm FAR has agreed to sell its 15% stake in the $4.2bn Rufisque Offshore, Sangomar Offshore and Sangomar Deep Offshore project offshore Senegal. ONGC Videsh subsidiary ONGC Videsh Vankorneft signed the agreement with FAR to buy the stake for $45m.
Hess sells 28% stake in Gulf of Mexico's Shenzi field to BHP
Oil and gas company Hess Corporation has completed the sale of its 28% working interest (WI) in the Shenzi field for a total consideration of $505m. HP Billiton, the operator of the field, is the buyer of the WI. The deal brings BHP's working interest in the field to 72%. The deal was initially signed in last month.
PetroRio agrees to sell 10% stake in Manati gas field offshore Brazil
PetroRio has signed binding documents with Gas Bridge to sell its 10%interest in the Petrobras-operated Manati gas field located offshore Brazil. According to PetroRio, the transaction is valued at R$144.4m ($25.25m).
Petrofac completes sale of Mexican upstream operations to Perenco
Oilfield services provider Petrofac has completed the sale of its non-core assets in Mexico to Anglo-French oil and gas company Perenco. Back in October 2018, Petrofac first sold 49% of its operations in Mexico to Perenco.
Rhizen signs oncology drug development deal with Curon
Swiss biopharma company Rhizen Pharmaceuticals has signed an exclusive licensing agreement with Curon Biopharmaceutical to develop and commercialise Tenalisib for oncology in the Greater China region. Tenalisib, a highly selective dual PI3K delta and gamma inhibitor, is currently in Phase II clinical development for haematological malignancies. The US FDA granted fast track and orphan drug designations for the drug candidate Tenalisib as a treatment for relapsed/refractory peripheral T-cell lymphoma and cutaneous T-cell lymphoma.