- ECONOMIC IMPACT -
Latest update: 18 November
After weeks of gradual decline, GDP estimates for many countries have levelled off.
Polls show that employment prospects have consistently improved since July.
According to the Reserve Bank of India, India's real GDP is estimated to contract by 8.6% during Q3 of 2020.
The Malaysian economy contracted at a slower pace of 2.7% (YoY) in Q3 2020, as compared to 17.1% contraction in the previous quarter.
Impact of Covid-19 on employment outlook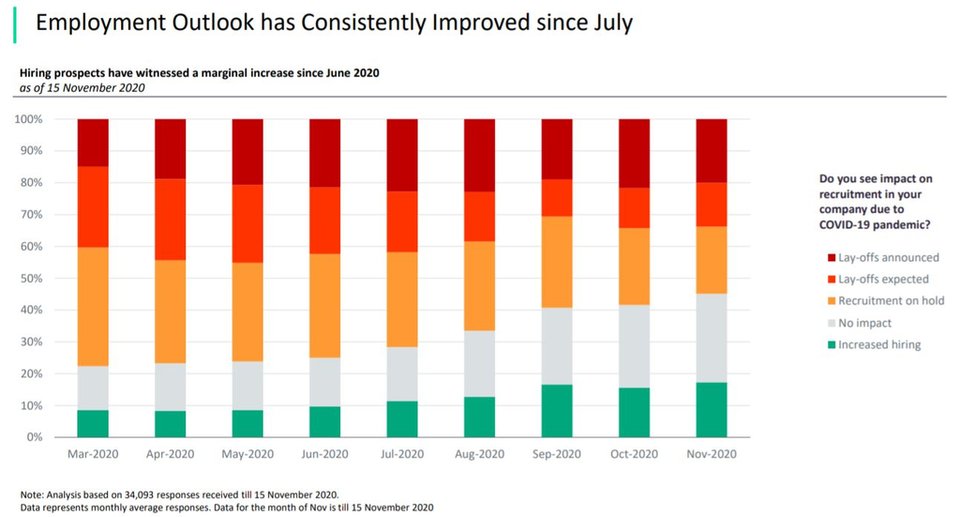 - SECTOR IMPACT: OIL & GAS -
Latest update: 4 November
Halliburton's workforce is now down to around 40,000 after letting go nearly 15,000 employees since the oil price crash.
Oil and gas companies continue to announce staff cuts in line with reduced operations – Shell will cut up to 9,000 jobs by 2022; ExxonMobil is set to trim 15% of its global workforce; Chevron will lay off 700 employees from its Houston office.
Reimposition of lockdowns in France, Germany, and other major parts of Europe are further likely to weigh down energy demand.
Q3 results showed some signs of green shoots, especially for European oil majors, after companies embarked on aggressive cost-cutting measures and impairments during Q2.
The IEA, in its latest publication, estimates that oil demand would reach pre-pandemic levels between 2023 and 2025
key oil & gas market developments