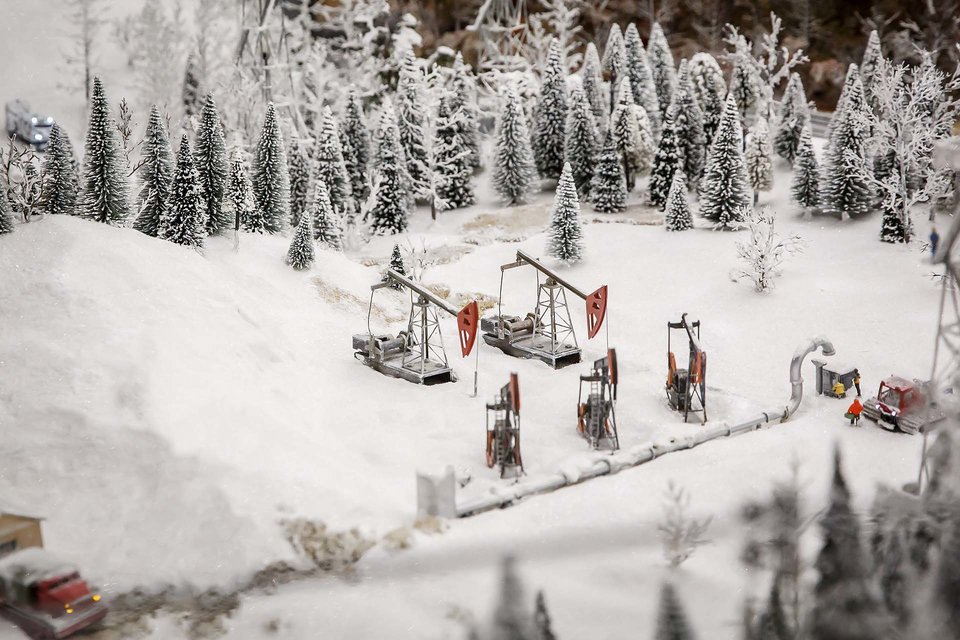 Supply and demand: the challenges winter will bring
As the majority of the world's population heads towards winter, there are growing fears that this could be one of the hardest of modern times. Andrew Tunnicliffe investigates how spiking prices and a challenging supply environment could impact power in winter.
Last February's winter storm, which hit Texas and several other southern US states, caused hundreds of deaths and left millions without power for days and even weeks. For the 'Lone Star State' the storm brought with it weather conditions it rarely experiences, with sub-zero temperatures and heavy snowfall the likes of which the state hadn't seen for decades. The freakish storm knocked out power plants and obliterated girds and ultimately cost in excess of $20bn.

If the crisis wasn't already bad, the failure of the region's power grid heaped on the pressure for power officials and legislators, who were targeted for criticism because of their apparent mismanagement of infrastructure as the storms continued. State and federal politicians pledged to ensure the disaster wouldn't be allowed to happen again. As the months passed, meteorological and metaphorical storms have come and gone, but the impact of what happened in February continues to be felt even today, with concern growing over what could lie ahead as winter begins to tighten its grip.

"We expect volatile natural gas prices this winter, largely due to lower-than average natural gas storage levels this summer following the cold snap in February," says US Energy Information Administration (EIA) spokesperson Chris Higginbotham. That, itself, is cause for concern but for Texans the warning bells have been chiming for some time.

Critics accuse legislators and power companies of not doing enough to prevent another catastrophe this winter, if the weather bites hard. They say the biggest issue last February was the natural gas supply which succumbed to conditions. Not only did it cut gas supplies to residents and businesses, it also stemmed supply to power plants, turning the lights out and making the situation exponentially worse.
Winter is coming and supply is looking slack
In early November EIA Acting Administrator Steve Nalley said mild weather had limited natural gas consumption and helped bring storage levels closer to average; but, he warned, cold winter weather could continue to put upward pressure on prices. He said: "Winter temperatures will be the key driver of natural gas demand, inventories and ultimately prices."

The news that natural gas consumption was stable was, however, the only real ray of light in an otherwise bleak prediction. Higginbotham said the EIA was forecasting a 46% increase in US household expenditures for propane, 39% for heating oil, 29% for natural gas and 6% for electricity this winter over last.

The issue is not just one faced by US citizens. Their neighbours north of the border are also expecting to be hit hard by energy prices; and it isn't just natural gas that's of concern, despite recent headlines. As Higginbotham implied, propane, a by-product of natural gas, is a pressing issue right now. At the end of October analysts warned that propane prices were at a seven-and-a-half year high, jumping by almost 300% in the previous three months, with the potential to cause significant difficulties for consumers in both Canada and the US through the winter.

"The US builds inventories of natural gas and propane every summer to support heating needs for the winter season," explains Higginbotham. "US propane and propylene inventories are starting this winter season lower than in recent years. As of 5 November, weekly US inventories are averaging 21% lower than the same time last year, and 15% lower than their recent five-year average." He adds that storage levels of natural gas – which heats almost half of all homes in the US – are currently 3% lower than the previous five-year average as of the end of October, showing that whilst natural gas has garnered the headlines, it's propane and heating oil where the risk is particularly prevalent.

According to the EIA figures, the cost per gallon of propane in early October was the highest reported for the first week of the winter heating season since 2011, at $2.59. It said during the first four weeks of the current winter heating season, prices were 49% higher than the same time last year.

Fortunately, less than 5% of US homes are mostly heated with the fuel, but those that rely on propane are on the Canadian border and as such are furthest north and most vulnerable to low temperatures. Around 4% of homes use heating oil, mostly in the Northeast of the country, with costs expected to be significantly higher and supply down by a third on the five-year average.
A demanding season ahead
In addition to increased costs and lower inventories, the EIA says it expects this winter to be colder than the last – based on the National Oceanic and Atmospheric Administration's forecasts for slightly lower temperatures – which will contribute to more heating fuel consumption per household. Higginbotham reports that this demand is already obvious, saying: "Demand for energy in the US has gone up significantly this year from the pandemic lows of 2020. That's been especially impactful for natural gas, crude oil and petroleum products."

"The increases in demand have outpaced growth in production, which has contributed to prices going up," he says. "That has led to decreases in supply and increases in prices. This dynamic has affected prices across the energy sector, including in winter fuels."

As the cold season progresses, there are very few areas that will not currently be looking towards the next few months with a sense of unease. North America is not alone with its supply and demand concerns; Europe and parts of Asia also face these issues, each with the potential to cause significant disruption and danger. Many analysts believe this year will see more people than ever before faced with the prospect of having to choose heating or eating.

European authorities are giving more thought than ever before to the potential risks energy supply and demand might herald. Headlines in the media are increasingly turning the spotlight on the challenges consumers – and their pockets – industry and even public services will face to continue unhindered by what might lie ahead.

China is also in the grips of an energy crisis the likes of nothing it has seen before. The country is enduring energy rationing as natural gas and coal prices continue to spike. In response the government has ordered coal production be ramped up to account for the expected – and current – supply and demand issues the country faces.
A future global challenge
The desire to be energy self-sufficient has never been so acutely felt. Europe needs to break its reliance on fossil fuels – which it is doing thanks to its renewable transition. Large economies in Asia, however, are looking at alternative resolutions such as enhancing their domestic supply through coal and gas. This was evident at the recent COP26, where India and China only reluctantly committed to "phase down" rather than "phase out" the use of coal.

However, there are some hopeful signs for the future too, Higginbotham believes. Quoting an excerpt from the agency's Annual Energy Outlook report, he says: "The residential sector's consumption of natural gas is nearly flat, and commercial buildings show low-to-moderate growth, both as a result of final demand growth being tempered by energy efficiency improvements – particularly energy management controls and sensors – in space heating."

If that is a trend set to continue, coupled with the greater application of renewable technologies as costs come down, it could be that we will see a fossil-free future, removing the geopolitical volatility at least. That is a hope for the future; for now all that anyone wants is an uneventful winter. While the eyes of the world will be watching what happens in their own backyard, there will be more than an occasional gaze towards the US.

Main image: St. Petersburg. Russia - Rig for extraction oil.
Credit: Piatrouski / Shutterstock.com