- ECONOMIC IMPACT -
Latest update: 22 November
India's GDP growth is predicted to stabilise at around 8% for 2021, compared to older expectations of a decline from 9.7% to 9.2%
After downturns for several months, positive GDP growth is forecast in all countries; 2021 consensus forecast for global GDP growth is currently 6.0%.
Close to 12 million new cases have been reported in the 27 days prior to the publication of the latest figures.
The Republic of Ireland reported the largest two-year GDP growth rate between 2020 and 2021, with growth of just over 6%.
Covid recovery in the Americas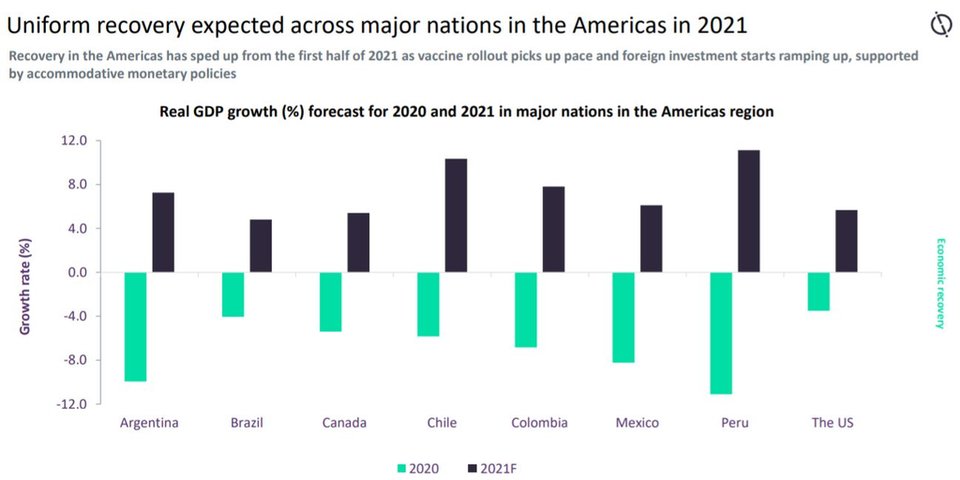 - SECTOR IMPACT -
Latest update: 3 November
UPSTREAM
In the short term, the sector will have to reassess capital allocation based on prevalent pricing and demand. Beyond this, companies are expected to restructure with focus shifting to cleaner options, such as gas, light oil and renewables.
MIDSTREAM
Opex reduction is expected in the short term, alongside a re-evaluation of new and active projects and the possible consolidation of the industry. In the future, the oil and gas supply chain will need to be reviewed, as will risk clauses for supplier and contractors.
DOWNSTREAM
Possible consolidation in the industry is expected in the short term, as refineries are set to assess margins and configurations in light of the crude oil abundance. In the long term, there will be a focus on large integrated refineries, as demand for cleaner fuel is expected to increase further.
PETROCHEMICALS
In the short term, opex reduction and the re-evaluation of new projects are anticipated. Beyond these, there is not expected to be a 'perceptible' impact on demand, as focus shifts to large integrated complexes for better profitability.
EQUIPMENT AND SERVICES
Margins are expected to be placed under stress in the near term as companies look to deal with project backlogs. In the long term, a consolidation of equipment and services is expected.