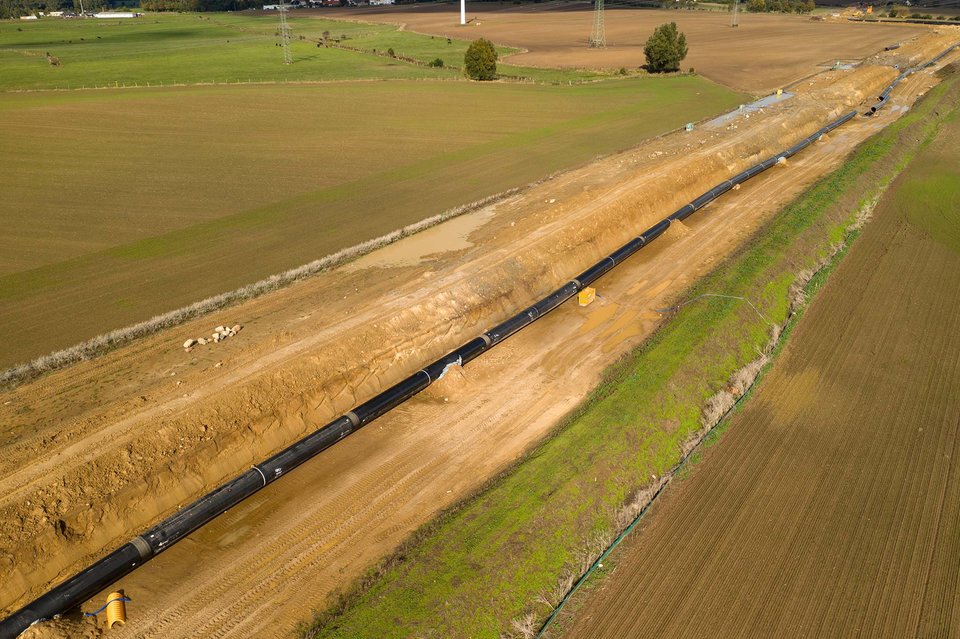 Nord Stream 2: the geopolitics of a changing gas market
A recent decision by the German Federal Network Agency to temporarily suspend the Nord Stream 2 pipeline caused a wave of speculation over how long the delay would last and whether Europe would see blackouts this winter as a result. Scarlett Evans looks at the latest delay, and how changing energy mixes are set to affect the gas market further.
T
he Nord Stream 2 project, a pipeline linking gas supply from Russia to Germany across the Baltic Sea, was envisioned as a means of meeting Europe's rising demand for gas imports as domestic production continues to decline. Yet since its inception, the project has encountered geopolitical tensions and delays, most recently in November when German regulatory authority Bundesnetzagentur (BNetzA) announced it would be temporarily suspending approval for the project, 10 weeks after it had accepted Russia's certification application.

The announcement sparked a wave of questions about the implications of the decision, with concerns raised over when the flow of gas may be expected to begin, and whether a delay would cause potential power shortages across Europe.

While alternative routes do exist to supply Europe with its winter power needs, the situation brings up another question – how geopolitical relationships will be affected by a changing energy landscape, and how consumer demand can be balanced alongside lower emissions targets as we move towards colder months and pressured supplies.

The Nord Stream 2 suspension
Construction of the Nord Stream 2 pipeline was completed in early September, with Russian energy corporation Gazprom the project's sole shareholder. A route already exists under the Baltic Sea for the Nord Stream 1 pipeline, with a capacity of 55 billion cubic metres, and the second pipeline is set to double that figure, to make Germany something of a hub for European gas.

While supplies from Nord Stream 2 were initially hoped to be received to meet Europe's 2021 winter demand, the BNetzA decision to temporarily suspend the project has put a potentially significant delay on the supply.

In a statement, BNetzA said it had paused the certification process for Nord Stream 2 as it had come to the conclusion that "certification of an operator of the Nord Stream 2 line is only possible if the operator is organised in a legal form under German law".

As the current operator, NS2 AG, is a Swiss-registered company, it would have to re-register as a German company in order to operate the pipeline. While a valid reason for pause, the fears over insufficient European gas supply to meet demand meant the decision was met with concern.

This is not least because while avenues are in place to move gas from Russia to Germany – such as the Nord Stream 1 or Yamal pipelines - there are not yet any signs of Russia boosting supply through any of these routes. As a result, Russia's actions have come under scrutiny, and Gazprom has been called out by some for using the situation to leverage a faster certification of Nord Stream 2.

The politics of gas demand
Michael Bradshaw, professor of global energy, Warwick Business School, University of Warwick says: "There are different perspectives on what Nord Stream is about. The view in Central Europe and from countries like Poland would be largely almost entirely negative because they see it as doing damage to gas flow through existing routes, while Ukraine sees it as aimed squarely at trying to circumvent them and reduce any reliance on gas transit and payment for transit.

"In the US, it perceives it as a project that's going to make Europe more susceptible to manipulation by Moscow."

He adds: "It's much more than just the pipeline. It's always been much more than just a pipeline, and it's been a source of consistent tension within the EU, between member states, between the EU and the US, and of course between the EU and Russia. Everyone has their own particular angle, which reflects their own view of the world and interests."

The political trappings of energy infrastructure and supply raises the wider question of how nations can navigate a reliance on one another's power supplies as global energy demands shift. As the UK and Europe have claimed they will be transitioning away from gas in the foreseeable future to meet low carbon targets, typical suppliers such as Russia will be turning their focus away from these nations as an export route.

Strengthening against gas instability
"No one is really asking why so little LNG has come to Europe, and that's because it's driven entirely by market forces," says Bradshaw. "It's all going to Asia because they're prepared to pay more, and this situation makes us more reliant on Russia increasing supply.

"Europe, including the UK, has been saying it's going to get off gas and while we may be currently concerned about security of supply, equally Russia will have concerns about demand. Why should they continue to invest in gas fields to supply Europe when we keep saying we're looking to move away from this source? The EU is making claims and statements about the future of its energy system, which will depress gas demand."

As Europe faces a volatile gas market, the question is then how it can strengthen itself against instability. The gas market is at a time of uncertainty, with inflation rates being squeezed by higher energy prices and the price of gas in the Netherlands climbing 8% to hit €101.60 ($115.49) per megawatt-hour in November.
"Currently, the market is very tight and the European hub prices are very high," says Dr Katja Yafimava, a senior research fellow at the Oxford Institute of Energy Studies. "Although the prices will fall at some point, volatility is likely to become a constant feature of the European gas market, particularly as energy transition and decarbonisation gather pace later in the decade."

There are some who argue the only way to avoid volatility is to fast-track investment into renewables, with Austrian Climate and Energy Minister Leonore Gewessler saying a faster shift to renewables would make the EU "more resilient to price fluctuations in the long term".

Yafimava says that signing medium term gas contracts with Russia would provide "some insulation against an extreme price volatility and smooth the transition" and indeed, finding a way to manage the transitional phase while still meeting consumer demand will be a challenge that nations will need to face. Regardless of how it's done, it seems clear that the transition to a cleaner economy will not be entirely smooth sailing.
Decarbonisation's impact on gas demand
"Phasing down our fossil fuel system, if not properly managed, is going to be very, very problematic," says Bradshaw. "In a sense, we are actually in a decade where we've still got all the problems of the old high carbon system. More than 80% of global energy consumption is still supplied by fossil fuels and in the UK, natural gas is still the most important overall source of energy for power generation and heat.

"The Nord Stream problem is a classic, old school geopolitical problem. While there is a narrative out there that we are looking to a future when fossil fuels are gone and we're living in a renewable-dominated world, the reality is that this process of transformation is going to be very messy."

The question of how decarbonisation will impact gas demand in the long run is a complex one, and not something that will be immediately clear. While Nord Stream 2 is not in itself the be all and end all of European gas supply, it sits within the wider context of a fluctuating gas market that is beginning to react to this issue.

What we do know is that domestic gas production is falling and finding a way to prepare for this is going to be an important means of bolstering supply against market volatility whilst managing down demand for fossil fuels.

Main image: Gustebin / Germany - Construction site of European natural gas pipeline
Credit: Stefan Dinse / Shutterstock.com