Sponsored by SEAS Offshore
Sponsored by SEAS Offshore
Your Onshore and Offshore Vibrocoring Systems Specialist
Submersible Equipment and Services (SEAS) is a privately owned Australian company that has been providing top-of-the-range vibrocoring and environmental surveying systems to an array of clients and customers, both domestically and internationally, since 1983.
SEAS is committed to creating solutions for clients with the aim of bettering expectations, while leaving each customer and client with products that they will be able to reliably use for many years to come.
Aquatic samples from unconsolidated and semi-consolidated sediments
Vibrocoring is a way of quickly retrieving continuous, undisturbed core samples from unconsolidated and semi-consolidated sediments. Vibrocorers are generally used in aquatic environments with water depths ranging up to 200m; however, the same sampling procedure can also be used to recover core samples in terrestrial environments.
The core barrel (standard at 76mm ID 80mm OD aluminium for SEAS systems) is vibrated into the sediment while attached to the vibrocorer head. Sediment that is in direct contact with the core barrel forms a liquefied outside layer by the vibration mechanics. This layer enables the core barrel to penetrate the sediment strata.
SEAS vibrocorers can operate from onshore to 2,000m below sea level. Whilst the 80mm core barrel is generally the standard, SEAS can collect other core sizes if clients require. The depth to which larger cores can be sampled is dependent on the bottom sediment type and core diameter. Sampling using stainless steel barrels and polycarbonate liners in accordance with the Australian National Assessment Guide for Dredging (NAGD) 2009 can also be conducted.
SEAS understands that its clients have a wide range of requirements and strive to work with them to tailor the products and services to best suit their needs. By doing this, SEAS has developed a launch and recover system (LARS), which improves the safety of offshore operations and reduces weather downtime. The LARS system is easily transportable and can be secured onto vessels of opportunity. For longer projects the LARS is rapidly becoming a must have item. Both the VC-450 system (Vibrocorer head, power cable and guide tower) and the LARS can be packed for air freight to destinations around the world.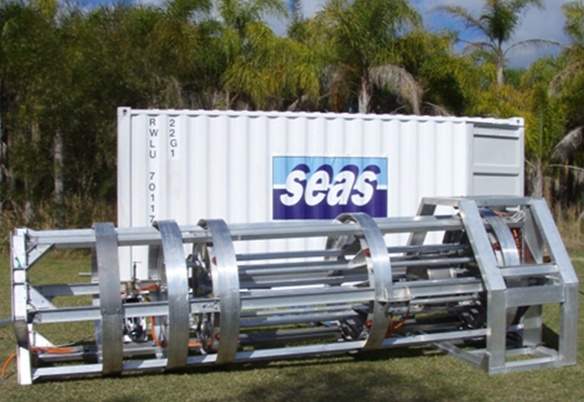 Core sampling for geotechnical, geological and survey projects
This style of core sampling was developed in the late 1970s and early 1980s and since then it has gone on to become an invaluable method for geotechnical, geological and survey projects where rapid, quality and cost-effective collection of sediment data is required. SEAS vibrocoring systems are manufactured in Coffs Harbour, Australia.
Onshore and offshore sediment sampling equipment
Although SEAS is well-renowned for its offshore sediment sampling equipment and services, the company's vibrocoring systems are equally suitable when it comes to onshore sampling projects. Products are manufactured using only the sturdiest and most durable materials, which helps to supply customers and clients with cost-efficient, rewarding, long-lasting and trouble-free operations.
Onshore sampling
Onshore sampling programmes are also available, including:
Soil sampling
Acid-sulphate soil monitoring
Carbon sequestration monitoring
Site surveys, including roads and building sites
Environmental monitoring
Contaminated site surveys
About SEAS
SEAS products can operate from onshore to 3,000m below sea level. The company understands that its clients have a wide range of requirements and takes pleasure in working personally with them to tailor the products and services that will best suit their needs.
SEAS has a research and development ethic dedicated to resolving coring situations and challenges that other equipment is unable to deliver on.
SEAS is more than willing to discuss difficulties that customers may have encountered in past projects and to assist in delivering superior outcomes.
Contact Information
Visit our website for more information or contact us directly.
SUITE 20 PLUMRIDGE HOUSE
36 AGNES ST
FORTITUDE VALLEY
BRISBANE QLD 4006
Unit 4
6 Hulberts Road
Toormina, New South Wales
New South Wales
Australia 2452
+61 266 583 672