- ECONOMIC IMPACT -
Latest update: 08 September
After weeks of gradual decline, GDP estimates for many countries have levelled off.
While concern over Covid-19 remains volatile, business optimism continues to improve.
Fitch Ratings revised its 2020 forecast for global economic growth to -4.4% from the earlier estimated -4.6%.
Dun & Bradstreet believes the global economy is unlikely to reach pre-pandemic level output before 2022.
Impact of Covid-19 on employment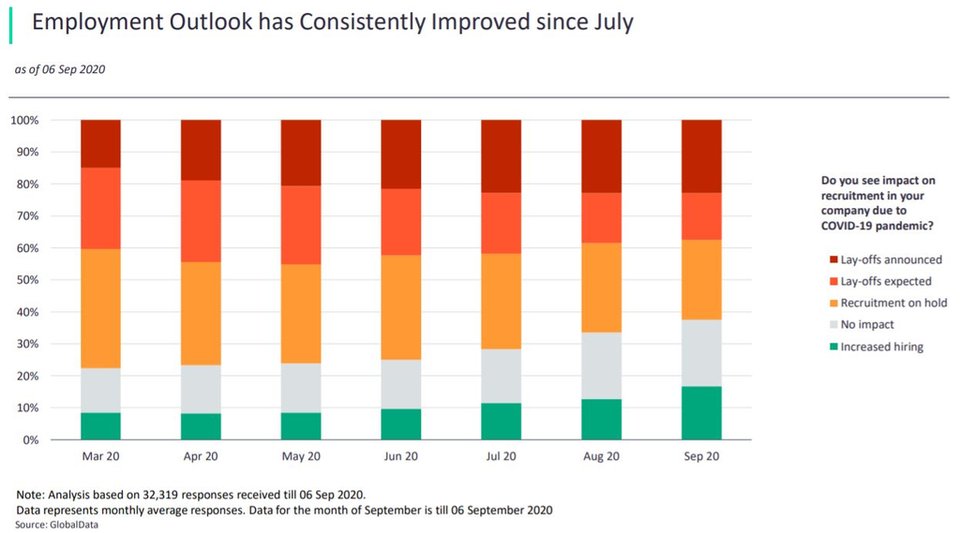 - SECTOR IMPACT: oil & gas -
Latest update: 09 September
"The oil & gas industry has been heavily impacted on all fronts as falling demand and geopolitical ambitions are greatly impacting company finances. The upstream sector will bear the brunt of the Covid-19 outbreak as the falling oil prices will impact production economics."
IOCs, NOCs, and independents have cut capex and opex in tune with low oil prices. These cuts are primarily being felt in drilling in the US shale plays, in postponement of project FIDs, and reductions in exploration budgets.
The OPEC+ group is collectively cutting 8.1-8.3 million bpd of crude oil output during August and September 2020. This includes around 400,000-600,000 bpd of cuts from those countries that had poor compliance in May and June.
Shrinking E&P activity and closing plants are causing layoffs across several segments – oilfield services are among the worst
hit. Halliburton announced job cuts in Texas and Oklahoma. Schlumberger cut around 21,000 jobs to tide the downturn.