Creating a circular economy for subsea equipment with Legasea
Aberdeenshire start-up Legasea recently scooped the Subsea Company of the Year accolade in the UK Enterprise Awards. Legasea takes liability and ownership for decommissioned subsea equipment, making it safe and clean, as well as disassembling it to its component parts, which are then sold back as spares. Alexander Love spoke to Legasea managing director Lewis Sim to find out more.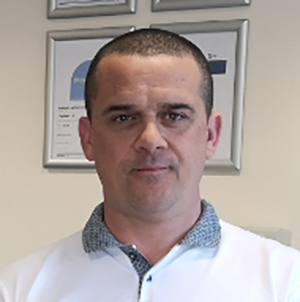 Lewis Sim, managing director at Legasea. Image: Legasea
Amy McCleney, research engineer at Southwest Research Institute.

Image courtesy: Southwest Research Institute
Credit: Courtesy of Cognite
T
he Department for International Trade (DIT) is responsible for promoting international investments and trade in the UK, as well as developing trade policy framework. As new markets are developed and the financial landscape is shifted by changes like Brexit, the DIT works to ensure investments in the UK remain stable and profitable.
In the thick of it is Campbell Keir, Deputy Director of Energy and Infrastructure responsible for the Oil and Gas, Renewable Energy, Civil Nuclear and Infrastructure portfolio.
After decommissioning assets in the oil and gas industry, countless perfectly good components are sent to scrap yards. Despite almost every other sector having effective reuse procedures in place, this was noticeably absent in oil and gas. Legasea was co-founded by Lewis Sim and Ray Milne to address this need, with the pair drawing on their decades of oil and gas experience.
The Scottish start-up now salvages much of this unwanted subsea equipment that would otherwise go to waste, refurbishing and recertifying items at its facilities near Aberdeen for reuse elsewhere. Despite only being founded in 2019, Legasea already has plans to expand thanks to surging global demand for increasingly rare subsea components.
Alexander Love: What makes Legasea different from other service providers in decommissioning?
Lewis Sim: While reuse is not a new concept in other industries, the oil and gas industry has been slow to realise the potential, both environmentally and economically. By mitigating a company's risk with regards to the waste management liabilities and using our expertise in mechanical, electrical, and hydraulic engineering to refurbish components to as-new standards, Legasea is breaking new ground in reuse and rendering it a viable option for all clients.
The oil and gas industry uses a very linear model: manufacturing to disposal. And what we are saying is: no, it should be a circular model.
One step before disposal should be disassembly. We can keep all of these valuable, hard to get, rare, obsolete components for when the industry needs them. The reality is that these are needed every day.
It's a sustainable business model. When the industry is busy, there is a high demand for the equipment that we supply. When there is a reduced level of new operations, and many decommissioning projects ongoing, this provides our inventory. And all the time in between, we're working in the operational side.
How is it possible to offer sustainability in the oil and gas industry?
Implementing circular economy principles in the oil and gas industry can lead to considerable carbon emission savings. The industry is a long way from being clean, but the measures we are taking, coupled with the ongoing drive towards carbon neutral targets set by many operators, are a step in the right direction.
When Legasea is refurbishing and recertifying equipment, we calculate an estimated CO2 emission saved for each product, showing a real-time saving that our clients can use in their corporate social responsibility reporting. This can increase the intangible asset value of a company through goodwill valuation immeasurably, which is particularly important in the ever-changing landscape of oil and gas operators and service companies.
The last few years have been noticeably up and down for the oil and gas industry. How have the fluctuations in oil prices affected what you do?
As an industry we've taken a big hit since 2014. Obviously, you had the financial crash in 2008. But within oil and gas, we were not significantly impacted at the time. We have now seen our own crash, with oil price in between 2014 and 2017. There were signs of a recovery during 2018, and by 2019 we definitely thought we were on the mend, and that's when we founded the business.

It was the best time to do it, and everything lined up. This concept, or start-up, would never have been feasible 10-15 years ago. And that's partly owing to changing attitudes towards climate change, and a growing emphasis on doing things in the most environmentally responsible manner possible.
This business model is relevant. And it's only because of this change in mindset. If we had tried this in the 1980s, or the 1990s, unnecessary waste wasn't considered to be important, and the environmental impact wasn't a priority. This sort of business is brand new to oil and gas, and there's nothing quite like it. And it has been very well received as a result.
You were only established at the start of 2019, but are already expanding and moving into international markets over the next 12 months. What factors have been driving this growth?
We are gradually expanding, and taking steps to begin working in a number of overseas locations, and this has largely been driven by the phenomenal response we have seen from clients in the UK. We are reviewing options for a variety of locations globally, specifically in key oil and gas hubs.
And the only reason we can do that is because we work with products that have a global market. It's all the same product. Wherever you go, subsea components are of a standard design, and there are limited manufacturers. We use the same components as somebody in the Gulf of Mexico, the same components as someone in Perth, Australia.

All oil producing nations do exactly the same as the UK. When they no longer need the equipment, they just dispose of it as soon as their need is over and everything's sent to the scrap yard. That's why we have ambitions to expand quite quickly, subject to gaining awareness of the regulations and standard protocols in each region. Everybody's using the same product. Everybody's got the same issues with availability and obsolescence. We're working in mature markets and much of the equipment on the seabed is obsolete now.
Are you looking to move into topside, onshore, and oil refineries?
Our focus primarily is subsea production at the moment. But yeah, with the growth of the company, we won't be able to turn our back on other areas because we also have a great deal of experience working with surface/topsides equipment. And we are here to save equipment from going to the scrap yards.

We will inevitably recycle or scrap certain aspects of the equipment. But we just want the opportunity to retain the critical, or obsolete, components first, ensuring that we can look after and maintain the ageing assets on the seabed.
What's driving this urgent demand for spare components in the subsea oil and gas sector?
The UK North Sea is a mature basin, with many ageing assets requiring maintenance, and obsolescence management is becoming more and more critical. Many of the components are now becoming obsolete, meaning that whole fields can be halted due to one small part requiring to be sourced.
Through reuse, we can ensure that these parts are recertified, and ready for reuse, at short notice, reducing downtime and maximising production.
The secondary advantage to reuse is the reduction in environmental impact, particularly in regard to carbon emissions. The oil and gas industry is seen as being a particularly dirty and environmentally harmful sector, and the benefits of reuse could help to clean up this image.
Manufacturing new, rather than reusing, leads to considerable carbon emissions. Globally, manufacture of primary steel is responsible for 7%-9% of all direct emissions from fossil fuels, with each tonne produced resulting in an average 1.83t of CO2, according to the World Steel Association.
How much more cost-effective is it to use refurbished components instead of new ones?
It is far more cost-effective to use refurbished components, which have been returned to as-new condition. The costly, and time-consuming, manufacturing processes are avoided through reuse, and the benefit to clients is two-fold. They save money by buying reused equipment.

In many cases, also, a significant lead-time for this equipment could shut down their operations whilst waiting for emergency spares to be manufactured, incurring an enormous cost due to lost production.
What technologies can you see making the biggest difference to the services you provide in the future?
3D printing is a key focus for us. If we get a piece of equipment in, requiring refurbishment and recertification, we may be unable to get assistance from the original manufacturer because the manufacturer possibly no longer exists, or the item has been deemed obsolete and is no longer supported.
That's when 3D printing comes into its own. It is possible to reverse-engineer, and make components within days, that traditional manufacturing methods may have taken many months to produce.
3D printing is improving all the time. And we're heavily involved with it in plastics; we now want to look at it in certain metal grades because it's evolving constantly.