Dan Hook, managing director at Armada. Images: Armada
Ocean Infinity: launching the autonomous Armada fleet
Next year Ocean Infinity plans to launch Armada, 15 low-carbon remotely operated surface vessels for inspection, data collection, and, in a first, unmanned offshore logistics, along with a new recruitment drive. Heidi Vella finds out more from Dan Hook, Armada's managing director.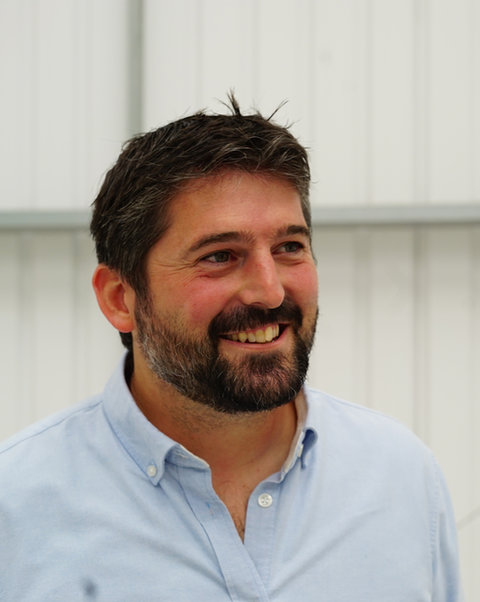 Dan Hook, managing director at Armada. Image: Armada
Credit: Courtesy of Cognite
T
he Department for International Trade (DIT) is responsible for promoting international investments and trade in the UK, as well as developing trade policy framework. As new markets are developed and the financial landscape is shifted by changes like Brexit, the DIT works to ensure investments in the UK remain stable and profitable.
In the thick of it is Campbell Keir, Deputy Director of Energy and Infrastructure responsible for the Oil and Gas, Renewable Energy, Civil Nuclear and Infrastructure portfolio.
Ocean Infinity was formed in 2017 based on the idea that different autonomous technologies could be combined to gather and analyse subsea data faster and more efficiently than conventional methods. Since then, using its fleet of 14 highly-equipped Kongsberg autonomous underwater vehicles (AUVs), known as the Infinity fleet, the company has set-out to demonstrate its ethos.
It has collected geophysical, geotechnical, and seismic data simultaneously offshore Angola for Total, an industry first according to the company. Additionally, a combination of AUVs and remotely operated vehicles was used to concurrently take HD pictures and collect rock samples for the Norwegian Petroleum Directorate in the Norwegian sea. Most recently, Ocean Infinity deployed advanced data acquisition technology to determine seabed conditions offshore Guyana for ExxonMobil.
However, its new Armada fleet, set to be launched next year, will significantly extend the company's offering beyond data collection and into low-carbon logistics. Dan Hook, managing director at Armada, tells us more.
Heidi Vella: Tell us more about the new Armada fleet you are launching in 2021.
Dan Hook: Armada will be the biggest fleet of robotic ships ever set to sea. It will have three different sizes: 21m, 36m and 70m. The two larger classes are being built to dynamic positioning two standard, which will allow them to work in the field. All of the vessels will be run from the control centres we're building in Southampton, UK and Austin, Texas and we're also looking at a potential site in Singapore.
That's where the mariners will be based, and they will be very much in the loop, but onshore rather than offshore. We'll use the satellite comms network for global operations. In some regions there's good terrestrial radios and networks, 4G and soon 5G, and our system can hop between the most appropriate links.
We're also receiving a lot of interest in low-carbon logistics which involves using these robotic ships to move containers, crates, and supply equipment from shore to offshore platforms and from coast to coast. This is a real step beyond surveys to logistics with autonomous vehicles and we're excited about it.
All of the Armada vessels are being built with deck arrangements that suit containers and crates. Logistics was a goal in our business roadmap, and we've been really surprised by the pull from industry to do it.
Additionally, from the outset the fleet will have a big emphasis on minimising CO2 emissions and we've designed the vessels to be very low impact and low fuel consumption by using hybrid technology, diesel generators, and batteries, and have a roadmap towards using hydrogen fuel cells.
We have put a lot of effort into the technology and as a business we have committed to offset any CO2 they produce through planting trees. This fleet is already set to be busy on some offshore wind farm projects supporting the cable industry.
How will the low-carbon logistics fleet operate and what are the challenges around payloads and battery power?
One of the biggest steps is taking the people off. [Having] people on board effectively creates a floating hotel for which the power requirements for heating, ventilation, lighting, and emergency systems are huge. Then there's crew rotation, which can mean flying 60 or 70 people halfway around the world every six weeks.
Once people are removed, it's about building vessels with the latest propulsion systems and electric drives, for which we are working with Corvus. We have three different sized Armada vessels for logistics; the smallest will carry around two 20-40ft containers, totalling around 15 tonnes. The medium-sized vessel can carry 60 tonnes, and the largest around 500 tonnes, which is quite significant.
Our model will be to offer a complete service; we want to take care of all the permitting, operations, and maintenance service for the customer. We might do several different roles for them within their field. Oil and gas and offshore wind have shown interest in this model, where they commit to vessel time, but maybe for different tasks.
Exactly how the operations will work we are still figuring out, we have consultants working with us to evaluate different routes and areas around the world.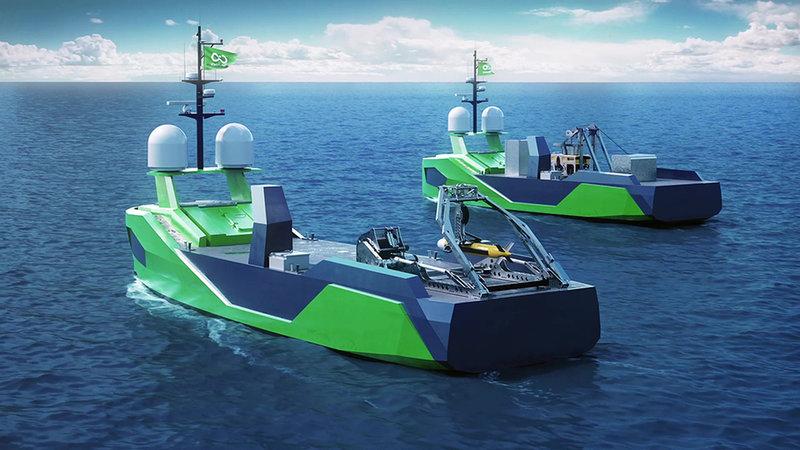 Ocean Infinity has heavily invested in multi-use AUV and software to plan and optimise operations and now is looking to expand to autonomous offshore logistics.
Are you seeing a demand for more greener, lower carbon operations?
I've been amazed just how important a topic it's become so quickly. It was always there in the small print in tenders and projects that jobs should be done as environmentally sensitively as possible. But it's now become a major topic in projects and a major impactor. We've been really pleased to see that.
In the future we hope to upgrade the vessels to install fuel cells. We are starting research and are looking to do trials next year with some different suppliers of fuel cells and possibly ammonia. We recently received a grant from the British Government and are building a fund to help establish a Low Carbon Marine Logistics Centre in Southampton.
Is there still some cost reduction that needs to be achieved?
Not necessarily. We're seeing a competitive price between the two different ways. I think robotics offers the chance to cut emissions, which is of a lot of value to many people, as it can then cut the amount of fuel used. So, there's potential savings. It's generally doing things more accurately or faster or safer, or in a more organised manner. We're really pushing to offer a better service for a pretty comparable price.
The safety points are really key also; if you're an oil and gas operator, what are the things that keep you awake at night? It's probably safety at the top of the list, then you're looking at your emissions and costs. This is a pretty neat solution for the things they worry about. With modern technology and sensors, modern software, you don't need people offshore for everything.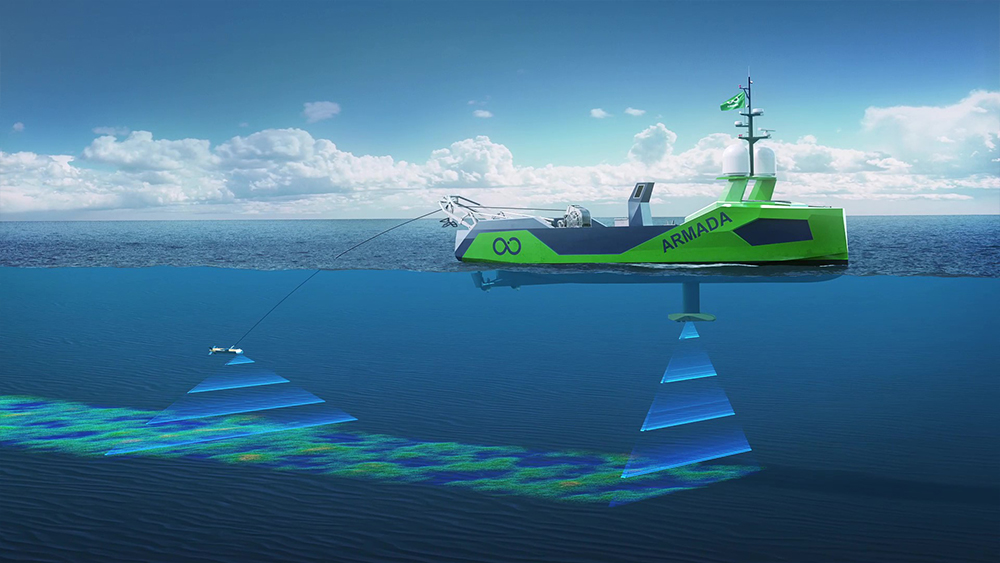 The Armada fleet could be critical to companies' decision making and project management timelines.
Are there any other barriers, in particular in regards to legislation?
There's a lot of things that could be seen as barriers. We've taken them all seriously and have recruited some leading people to work on our site plans, a team that are absolutely focused on our approach to cybersecurity, and are working with some industry leading companies in that space.

On the regulation side, I've been involved in writing the code of practice and operational guidelines for unmanned ships for about a decade, and so I have a very close relationship with the UK Maritime and Coastguard Agency and the International Maritime Organisation.
Regulations need to be effectively worked with and managed and it requires the whole industry to be professional. None of us want any incidents or accidents. We're actually finding the Coast Guard incredibly supportive, I think they realise that this is the future. A lot of the Coast Guard's challenges and problems come from people offshore, so they see the benefit.
Another potential challenge is people getting used to trusting robotics. We'll be working hard in the first year of operations to do case studies and show reliability and accuracy of data to get people comfortable. We start our first work in the tail end of Q1 next year, delayed slightly by the Covid-19 pandemic. We have some clients keen to try it out in the North Sea.
What else is next for Ocean Infinity?

To make all these things happen, we need a really good team. Therefore, we are recruiting a lot of people in Southampton and in Austin. We're setting up a training system and we want to bring in people at different levels, from different backgrounds to introduce them to marine robotics. There's a whole mix of different roles we'll be recruiting for. Anyone interested should go to our website and there is a space where they can find out more.