De-risking offshore operations: the search for 'zero dive'
Manned diving operations are a necessary part of maintaining offshore oil and gas assets, but also a very costly and dangerous process. With new technological developments, could a future where divers no longer have to work on offshore rigs be in sight? Umar Ali explores the potential of 'zero dive.'
Credit: Oceaneering International, Inc. All rights reserved.
O
ffshore oil and gas platforms need constant monitoring and maintenance, but this work can be very dangerous. The low temperatures and high pressures at the depths deepsea divers operate can cause fatal conditions such as hypothermia or decompression sickness, otherwise known as 'the bends.' The challenges of working at sea can be exacerbated by weather conditions and currents, and the remote nature of these platforms means help is often far away.
In a statement on their website, the Divers Institute of Technology said: "These systems require drivers to work with heavy underwater cables and propulsion systems, something which would be a real challenge even if they were above ground. Even the task of simple underwater water inspection can be very difficult when the weather turns bad."
Mistakes in these operations can be costly. The failure of a single piece of safety equipment on a blowout preventer resulted in the 2014 Deepwater Horizon disaster and the subsequent environmental damage in the Gulf of Mexico.
"Every process on an offshore rig needs to run smoothly," The Divers Institute noted. "Each day that a rig is offline costs companies tens of thousands of dollars, so companies demand exceptionally high standards of work."
Could robots replace divers?
While 'zero dive' operations remain a hypothetical at present, technological developments in the offshore oil and gas sector have the potential to significantly reduce the number of deployments for manned divers and make maintenance of offshore platforms safer.
The Eelume robot, developed by a spin-off from the Norwegian University of Science and Technology in collaboration with Kongsberg Marine and Equinor, is designed to 'live' permanently underwater and perform subsea inspection, repair and maintenance tasks.
Eelume connects to a docking station on the seabed, which makes it easier to deploy than a manned diver or a conventional remote-controlled robot that would need to be sent down from the surface. The robot has a modular design, with a number of attachable tools to equip it for various maintenance jobs.
"The potential cost saving for offshore companies is significant because the sea snake may reduce the need for surface vessels, reducing the fuel base during costly and time-consuming inspection, maintenance and repair tasks," said Kongsberg CEO Arne Kjørsvik in an interview with Offshore Technology.
"The resident solution will not only help customers improve their maintenance performance, but also accelerate production by reducing the number of vessel days."
The licences cover a huge area in very deepwater, averaging 3,200m.
Remotely operated vehicles
Remotely operated vehicles (ROVs) are another development that could move the offshore industry closer to 'zero dive.'
A development from Oceaneering in partnership with Equinor, the Empowered ROV (E-ROV) is a battery-operated, self-contained system designed for subsea operations.
The E-ROV operates remotely via an Ethernet connection, sending and receiving data via a buoy a on the surface, allowing the vehicle to be operated from a control room anywhere in the world. This Ethernet connection, as well as the E-ROV's subsea charging station and on-board battery, mean the vehicle can operate without a mother ship.
"This remotely operated system enables operators to intervene faster, keep production online more effectively, and perform routine tasks with fewer deployments," Oceaneering said in a statement.
Digital twins
Another technology with the potential to reduce the number of offshore diving operations is digital twins, which allow problems to be identified before divers are needed.
Offshore software provider Akselos has developed the Digital Guardian simulation software to increase the efficiency of offshore maintenance.
"A robust inspection regime is of critical importance to the operational safety of offshore oil and gas assets," said Akselos vice president of projects Andrew Young. "But in many cases, the inspection areas are subsea, hard to reach and subject to harsh environmental conditions.
"Traditionally, a diver or ROV would be used to carry out inspections on such areas, but many offshore operators are now using Digital Guardian technology to enable real-time, condition-based monitoring of entire assets."
The Digital Guardian simulates fully detailed models of large-scale assets. This model can then be coupled with sensors to capture the true condition of the asset and create a real-time digital twin of the asset.
The software is cloud-based, and the digital twin can be accessed at anywhere and at any time. If there are any defects or structural anomalies the software's Decision Support System alerts asset operators, which allows structural engineers to make informed decisions about maintenance or recovery plans.
"With this new, more focused approach to risk-based Inspection, the result is that if divers are required, they can focus their attention on a pinpointed area, reducing the number and duration of dives required," said Young.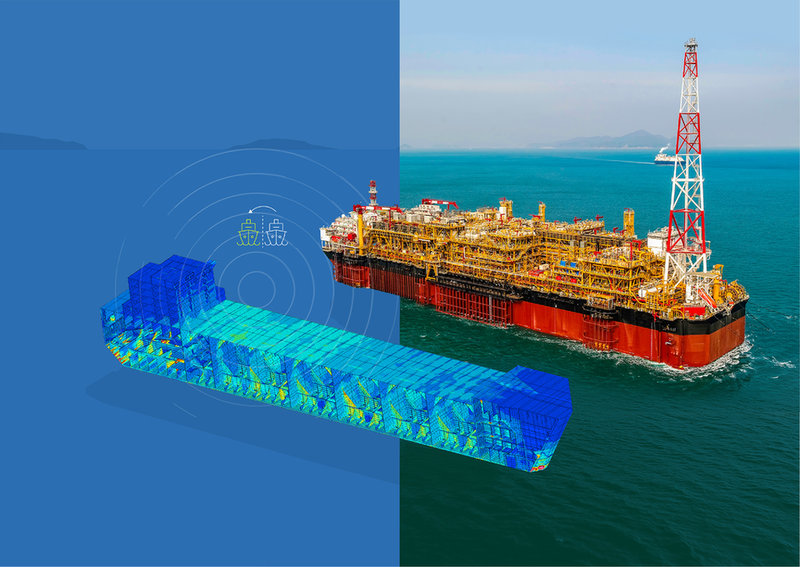 Image courtesy of Akselos
Is 'zero dive' possible?
With the development of remote technology and advancements in robotics to limit human interactions with offshore platforms, oil and gas companies could save money and resources in their maintenance operations.
However, industry resistance to changes in operations is a problem for paving the way towards 'zero dive.' Despite proven benefits, it can be difficult to persuade companies to adapt to changes in software technology.
Despite these financial concerns, technological developments for de-risking diving operations are expected to make a significant impact on the oil and gas industry.
Speaking to Offshore Technology earlier this year Director of Energy and Infrastructure at the UK's Department for International Trade Campbell Keir pointed out that "The advent of things like drones, advanced robotics, underwater ROVs, big data and artificial intelligence are all areas that are in some shape of form going to impact the oil and gas sector.
"There are a lot of companies spending a lot of time and money looking into these technologies. I think they'll also make operations safer, which is a big priority in the oil and gas industry, and make things more efficient and cost-effective."
Despite all the promise, so far, not a single well has been drilled in the west and south west of Crete.
Future outlook
Overall, should there be a significant find offshore Greece, "the region as a whole could stand to benefit significantly," says van der Meer.
But considering the current rate of activity, and the potential technical challenges associated with deepwater drilling, the time frame for such a discovery is likely to still be several years away.
Commenting on recent new lease agreements, Greek Energy Minister George Stathakis has said he expects to see "the extent and size of [Greece's] deposits in two to four years."