- ECONOMIC IMPACT -
Many economists have cut their GDP forecasts. The 2020 consensus forecast for GDP growth is currently negative and many predict a recession.
Major market indices are improving and, as concern over Covid-19 spreading falls, business optimism is trending upwards.
With economists cutting their forecasts in response to the pandemic, the 2020 consensus forecast for GDP growth is currently -1.9%.
HSBC revised its global economic growth forecast for 2020 to -4.8% in May from -3.3% in April.
Impact of Covid-19 on asset prices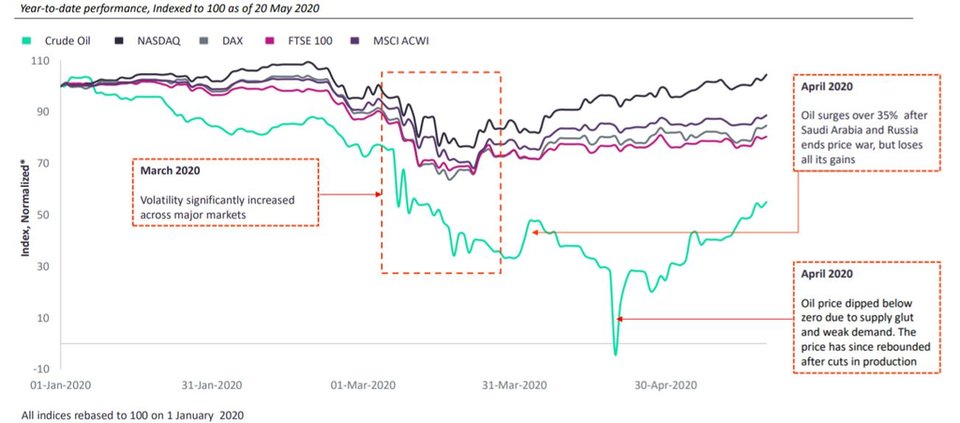 - SECTOR IMPACT: oil & gas -
"The oil & gas industry has been heavily impacted on all fronts as falling demand and geopolitical ambitions are greatly impacting company finances. The upstream sector will bear the brunt of the Covid-19 outbreak as the falling oil prices will impact production economics."
Lockdown measures have brought a sharp drop in global oil and gas demand, with the IEA estimating that global oil demand could fall by approximately 26% in May 2020.
Production shutdowns in China have disrupted raw material and equipment supply chains across all industries, especially those that are heavily dependent on China.
Restrictions aimed at limiting the spread of Covid-19 are hampering progress for some ongoing projects, with a major example being the Tortue LNG project in Mauritania and Senegal, delayed for roughly a year.
impact on capital expenditure