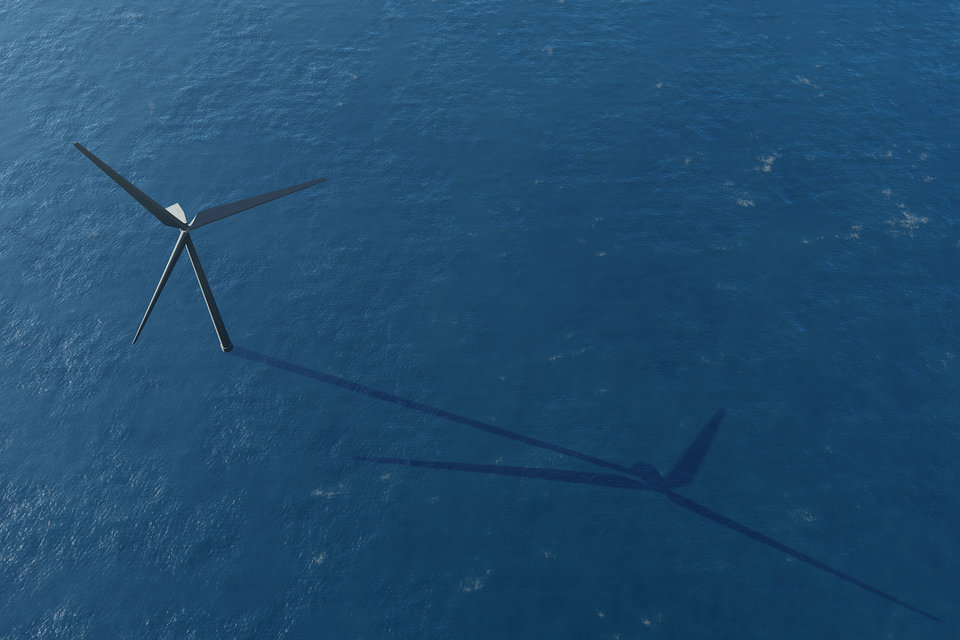 Can floating wind turbines help reduce GHG emissions from oil and gas projects?
The Canadian Government is funding a new project that plans to use floating wind turbines to power offshore installations, thus reducing harmful emissions from oil and gas operations. Julian Turner gets the lowdown from Blair MacDougall, director at project partner Waterford Energy Services.
Immortalised in E. Annie Proulx's novel The Shipping News, Newfoundland and Labrador (NL), Canada is renowned for its ruggedly beautiful coastline, the warmth and individuality of its people, and its abundance of natural resources, including fish, mineral deposits and, more recently, oil and gas.
Oil reserves were first discovered in Canada's most easterly province in 1979, with first oil in 1997. Over the past 20 years, the industry has accounted for 25% of the province's GDP and 41% of its exports. The government is committed to doubling production to over 650,000 boe/d by 2030.
Efforts are underway to ensure that this ramping up of fossil fuel extraction does not come at an intolerable cost to the environment. A March 2021 report by the Newfoundland and Labrador Oil and Gas Industry Recovery Task Force, on behalf of the province's Oil and Gas Industry Development Council, outlined the challenges ahead and how the industry can help enable the energy transition.
"While the [greenhouse gas] (GHG) emissions per barrel in the NL offshore are lower than the world average, there is risk that this will increase without additional developments and investments in clean technology," the report states. "NL can become a leader in clean technology through low carbon oil and gas, renewable energy resource development, and by growing a technologically focused workforce.
"A key success factor will be a highly collaborative framework, where maximizing the economic recovery of NL's low-carbon oil and gas resources continues to be a major economic driver, enabling the energy transition through growth in renewables and continued innovation."
Developing a "plug and play" renewable power solution
Collaboration and innovation are two of the driving forces behind a project involving Novia Scotia's Waterford Energy Services (WESI), a specialist upstream operator, and Spanish technology company Saitec Offshore, the aim of which is to reduce emissions from offshore oil and gas operations.

WESI and Saitec will work together to develop harsh environment solutions and create a "plug-and-play" renewable power option for mobile offshore drilling units and other offshore or nearshore installations in NL, Canada, and abroad.
Together, we can create new technology and intellectual property that has potential to benefit our region, and industry, significantly.
"Our paths first crossed while collaborating on the early stages of an offshore wind project in South America," explains WASI director Blair MacDougall. "At that time and location, the overall risk was too high for the project to proceed. I suggested that we look at other regions but with a focus on oil and gas projects. So that is what we did and now we are seeing some success.
"Waterford has a world class technical team in offshore oil and gas projects. When this is paired with the unique knowledge of Saitec in floating offshore wind, we have a very attractive partnership. Together, our collaboration has the potential to benefit our region, and industry, significantly."
Fuelling the future: reducing emissions from oil and gas production
The transition from fossil fuels to renewables continues, but as the NL Oil and Gas Industry Recovery Task Force report points out, the world will still require a baseload of oil and gas for many years.
"In the majority of climate forecast 2°C temperature reduction scenarios, oil and gas will continue to be an important part of the energy mix through 2050. These facts are irrefutable," the report states.
The challenge therefore is to limit the GHG emissions created from getting raw fossil fuels like oil and gas out of the ground and processing them for mass consumption. The project involving WASI and Saitec – entitled 'Modification of Mobile Offshore Drilling Units for Shared Renewable Power Supply and Storage' – aims to do this by generating abundant clean power using floating offshore wind turbines and transmitting it to offshore or nearshore installations.
"Depending on the site-specific conditions, Saitec's SATH and this power system can be applied to many types of offshore or near shore power consumers," explains MacDougall. "The consumer may be an offshore drilling unit, an aquaculture operation or a coastal fossil fuel power generation station that is being repurposed."
Existing or 'brownfield' consumers can be much more challenging when it comes to integrating an external power supply.
The floating wind turbines are mobile, meaning they can be placed quickly and easily into position in shallow or deep water using an anchoring system that meets the risk profile of each application.

"We are currently looking at two very different applications," says MacDougall. "One is a shallow water fish farm, where fixed bottom structures are not permitted, and the floating wind turbine must also stay within a discrete footprint. Another is an FPSO [floating production storage and offloading] unit in 1,100m of water depth, in quite harsh conditions.

"Integrating the renewable power supply when the consumer is a new installation is better because the consumer has been designed with this external power supply in mind. Existing or 'brownfield' consumers can be much more challenging when it comes to integrating an external power supply."
Better by design: benefits of floating wind turbines
Floating wind turbines are a nascent technology, but the benefits are multifarious, chief among them the ability to generate electricity in water depths where fixed-foundation turbines are not feasible.
Floating turbines also have the potential to significantly increase the sea area available for offshore wind farms, especially in limited shallow waters, as well as utilise stronger, more consistent winds.
According to MacDougall, added benefits of the "plug and play" solution include standardised design for lower cost and speed of adoption, plus carbon tax credits for offshore or near-shore projects.
"We are also addressing the ability to disconnect from a power supply in the event of an emergency, ice factors, and integrating battery storage technology through cooperation with some key partners," he says.
We anticipate a demonstration in 2024, subject to regulatory approvals.
With the climate change clock ticking, MacDougall concludes by discussing project timelines.
"The first phase of the project is a desktop, front-end engineering design study, which should end in mid-2022," he says. "We anticipate a demonstration in 2024, subject to regulatory approvals."
The world's first, and to date only, floating wind farm is Hywind Scotland, developed by Equinor and commissioned in October 2017, comprising five floating turbines, with a total capacity of 30MW.
Innovative, collaborative projects such as the one involving WASI and Saitec could help demonstrate the efficacy of floating wind turbines as an economically viable, safe, and sustainable solution to the problem of reducing GHG emissions from oil and gas projects, as part of the global energy transition.