- ECONOMIC IMPACT -
Latest update: 15 September
India and China set to dominate global post-Covid recovery, with projected GDP growth rates of 9% and 8% respectively.
Nearly 45% of employees report an increase in productivity while working from home, from 3,031 respondents.
The UK leads the world's wealthy countries with close to four million tests per million people.
The World Bank has downgraded the economic growth forecast for East Asia and the Pacific, excluding China, to 4% in 2021 from its earlier projection of 4.4% in March.
Impact of Covid-19 on employment outlook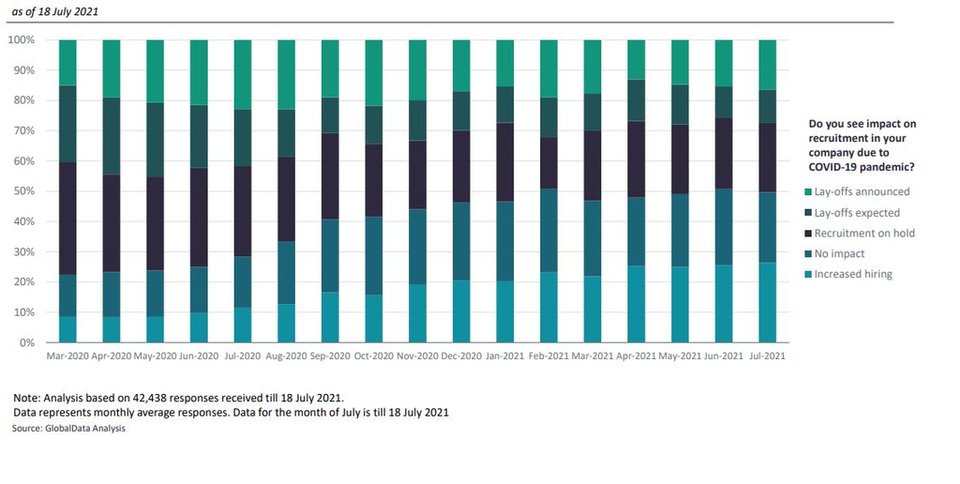 UPSTREAM
In the short term, companies are to review asset portfolios, and reassess capital allocation based on prevalent pricing and demand. Beyond this, companies are to restructure with focus shifting to cleaner options - gas, light oil and renewables.
MIDSTREAM
Producers set to see a reduction in opex reduction, ahead of a re-evaluation of new and active projects and possible consolidation in the industry. We will then see a review of supply chain infrastructure for oil and gas and reassessment of risk clauses for supplier and contractors.
DOWNSTREAM
Consolidation in the industry is likely as refineries are set to assess margins and configurations in light of crude oil abundance. In the long term, there could be an increased focus on large integrated refineries, and the demand for cleaner fuel will increase further.
PETROCHEMICALS
In the short term, companies are likely to see a reduction in opex and a re-evaluation of new projects. Beyond this, we expect no perceptible impact on demand, and for focus to shift to large integrated complexes for better profitability.
EQUIPMENT AND SERVICES
Project backlogs are set to be handled, and margins placed under stress. Beyond this, the sector is expected to consolidate in the long term.