CONNECTOR AND CABLE SYSTEMS FOR DOWNHOLE ELECTRONIC SYSTEMS by OMNETICS CONNECTOR CORP.
Omnetics leads in miniature interconnection design for down-hole sensors and circuits. Our many years of experience in petroleum electronic connections with both Micro and Nano electronics speeds rapid application specific connections.
Electronic sensors and detectors in the gas and oil industry have greatly expanded their capabilities. Key data is detected as logging-while-drilling process are underway at the well site. Temperatures in many new producing regions are now exceeding the older 175 degree centigrade range that had limited the use of logging while drilling. The newer high temperature modules the drilling industry can greatly expand its contribution to suppling gas and oil products.
Direction control, sensing and signaling electronic modules are included in tightly packed modules immediately behind the drilling bits to provide immediate time monitoring, steering, data logging and sensing hydrocarbon levels within the slurry. Steering electronics assist in hydro-jet direction control that allows drillers to route horizontally away from the vertical shaft when needed. This method provides multiple well site opportunities from one vertical shaft. Horizontal well shafts are more rapidly being used for gas and shale as well as finding rich petroleum spots within an area.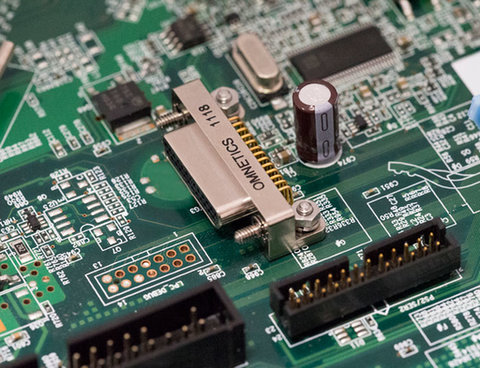 Board Mounted Micro-D Connector

During operations, extreme temperatures, high shock and vibration are becoming routine. The electronic controls, sensors, monitoring systems and data processors must be small and rugged to fit within its case and perform with integrity during the drilling process. Component manufactures are using higher temperature devices like micro-power CMOS operational amplifiers for Zero-Drift control or Quad/Octal, simultaneous sampling, 24-Bit Analog to Digital convertors to process data collected down in the hole while drilling continues. All of these are small rugged electronic devices that require connectors and cable to connect signals from one unit to the other and to manage and transmit the data up to the surface for control.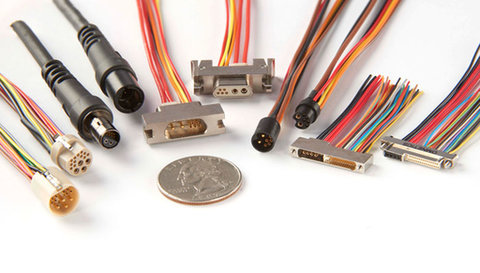 Omnetics' Hybrid Connectors
Omnetics high temperature Micro-D and Nano-D connectors including high/temperature wiring is a necessary choice for these applications. Ruggedized Micro connectors for the petroleum industry have been developed using standards from the ruggedized military industry and are serving as a good base to design from. Connectors used in oil drilling are upgraded with higher temperature materials and designed to meet industry needs while retaining small size and weight. This allows a combination of good fit, function and data processing when mounted on boards deep inside the well shaft electronics. Connectors use specially tempered beryllium copper pins plated with high quality nickel and gold and have been tested and proven to meet and exceed 200 degrees operation for over 1000 hours. Some specialty options are capable of withstanding up to 260 degrees Celsius. Mating force has been tested and holds well during high temperature cycles as specified. Special wire to pin crimping assures that contact resistance remains stable and within expected ranges, such as 140 to 160 milliohms. New high temperature epoxy materials bonded with liquid crystal polymers (LCP) are used to retain pin and wires deep inside the connector housing. Pull testing has been used to measure constant adhesion to the wire jacket insulation.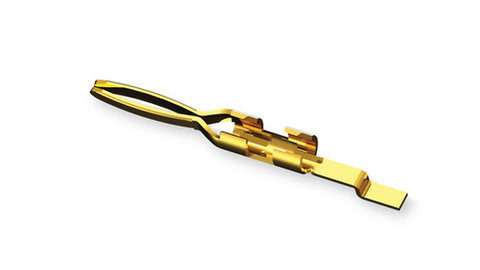 Omnetics' Flex Pin System
Omnetics maintains a high reliability report available to customers to assure quality and reliability in this extreme environment. A detailed test report available at Omnetics includes comparisons with other manufactures that also offer this level of product. Connector metal shell options are most often 6061 aluminum with nickel plating. Micro-D and Nano-D connectors designed for down-hole electronics have various mounting and connecting systems to fit in standard control boards.
Hybrid Micro and Nano Connectors
However, custom designs are beginning to appear more often. As in other electronic systems, there is a trend toward reducing the number of cable by using hybrid connectors that offer both power and signal lines within one shell and insulator system. This reduces both size and weight of the interconnection system. Consider these hybrid connector formats for your use as are often configured by your system designer who can work online with Omnetics to see solid models evolve during the conversation. This allows a rapid design of an application specific connector as well as a predictable fit within the petroleum related electronic modules they are to serve.
Omnetics Connector Corporation is a privately held connector design and manufacturing company with over 30 years of experience. Omnetics is focused on Micro-miniature and Nano-miniature high reliability electronic connectors and interconnection systems. Our products are designed and assembled in a single location at our plant in Minneapolis, Minnesota that includes in-house automatic machining and over-molding equipment.
Our proprietary flex pin contact system is used in both our Micro (1.27 mm pitch) and Nano (.64 mm pitch) connectors. These connectors are QPL approved to MIL-DTL-32139 and MIL-DTL-83513, which makes them ideal for high reliability industries like Petroleum. The Omnetics product portfolio includes products believed to be the smallest and most highly reliable connectors in the world.
Omnetics Connector Corporation
7260 Commerce Cir E, Minneapolis