Deals activity: South and Central America records highest growth; upstream leads by sector
Deals activity by geography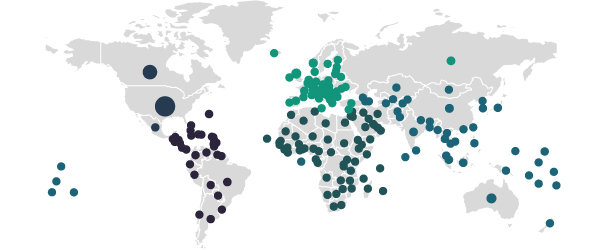 Oil & gas industry deals, as captured by GlobalData's Oil & Gas Intelligence Centre, are down year-on-year (YoY) across nearly all regions.
North America is leading in terms of deal value but also recorded the most significant decrease in YoY growth in deals volume, at -22%. South and Central America recorded the highest growth, tied with Asia-Pacific, despite ranking second to last in terms of deal value, seeing deal volume increase by 5% YoY.
The volume of deals recorded by GlobalData also decreased YoY in Middle East and Africa (-7%) and Europe (-4%).

Deals activity by type
| | | | |
| --- | --- | --- | --- |
| Deal type | Total deal value (US$m) | Total deal count | YoY change (volume) |
| Acquisition | 4778879 | 14280 | -55 |
| Debt Offering | 4339534 | 8774 | 49 |
| Asset Transaction | 2211712 | 24920 | -10 |
| Equity Offering | 1772403 | 15406 | -32 |
| Private Equity | 495099 | 2949 | -25 |
| Merger | 124808 | 493 | 302 |
| Venture Financing | 26919 | 2141 | -29 |
| Partnership | 13116 | 3489 | -74 |
A breakdown of deals by type and volume shows a general downtrend, with acquisitions down -55% YoY, partnerships down -74%, and asset transactions down -10%. Mergers, however, are up an astonishing 302%. Financing deals have fared only slightly better; equity offerings are down -32%, venture financing is down -29% YoY, but debt offerings are up 49%.
Deals activity by sector
It is perhaps too early in the year to pull on any notable threads apparent in GlobalData's analysis of oil & gas industry deals by sector. However, it can be seen that already, the various sectors are maintaining their general rankings by volume from previous years. Upstream continues to lead, with 174 deals logged, while petrochemicals remains the smallest sector by deals volume, with just 15.
Note: All numbers as of 9 February 2021. Deals captured by GlobalData cover M&As, strategic alliances, various types of financing and contract service agreements.
For more insight and data, visit GlobalData's Oil & Gas Intelligence Centre.
Latest deals in brief
EnQuest to acquire Suncor's 26.69% equity interest in Golden Eagle area
EnQuest, an oil and gas production and development company, has signed an agreement to acquire Suncor Energy UK's complete 26.69% non-operated equity interest in the Golden Eagle area for an initial consideration of $325m.
Petrobras to divest stakes in oil fields offshore Brazil
Brazilian state-owned firm Petróleo Brasileiro (Petrobras) has signed a contract for the sale of its stakes in the two fields located in the Espírito Santo Basin offshore Brazil to OP Energia and DBO Energia for $55m.
Mubadala signs deal with Egypt for Red Sea tract
Mubadala Petroleum has signed a concession agreement with the Egyptian Government for oil and gas exploration in Block 4 in the Red Sea offshore Egypt.
Equinor sells operatorship stake in Bressay oil field to UK's EnQuest
Equinor has closed the sale of a 40.81% equity interest in the Bressay oil field in the northern North Sea to UK-based petroleum exploration firm EnQuest.
Canadian oil firms Cenovus and Husky Energy complete merger
Cenovus and Husky Energy have announced the closing of their previously announced merger, creating Canada's third-largest crude oil and natural gas player.
Cenovus' strategic combination with Husky Energy was closed through a definitive arrangement agreement announced last October.
Rhizen signs oncology drug development deal with Curon
Swiss biopharma company Rhizen Pharmaceuticals has signed an exclusive licensing agreement with Curon Biopharmaceutical to develop and commercialise Tenalisib for oncology in the Greater China region. Tenalisib, a highly selective dual PI3K delta and gamma inhibitor, is currently in Phase II clinical development for haematological malignancies. The US FDA granted fast track and orphan drug designations for the drug candidate Tenalisib as a treatment for relapsed/refractory peripheral T-cell lymphoma and cutaneous T-cell lymphoma.