- ECONOMIC IMPACT -
Latest update: 20 January
After weeks of gradual decline, GDP estimates for many countries have levelled off.
Polls show that employment prospects have consistently improved since July 2020.
The Chinese economy's full year growth was 2.3% in 2020, the slowest rate in more than four decades according to National Bureau of Statistics.
Rating Agency S&P forecasts the economic growth rate of Russia at 2.9% in 2021 and 2.7% in 2022, following an estimated contraction of 3.5% in 2020.
Impact of Covid-19 on employment outlook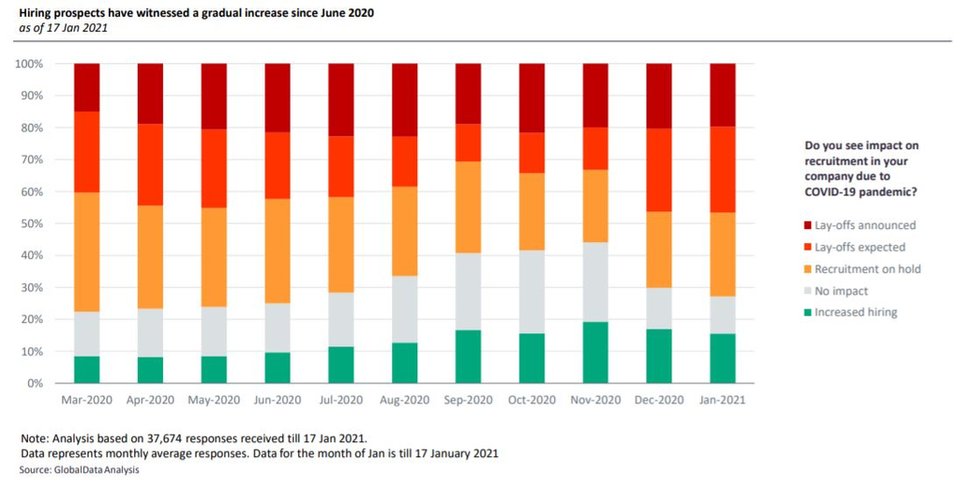 - SECTOR IMPACT: OIL & GAS -
Latest update: 3 February
The US oilfield equipment and services sector added around 15,000 jobs from September to December 2020.
E&P activity is gradually picking up from the Covid-19-induced downturn – the US alone added 33 rigs in January 2021.
Worldwide commencement of mass inoculation against Covid-19 has somewhat improved the prospects for energy demand recovery in 2021.
However, a sustained rise in infections across the US and Europe, as well
as resurgence of new Covid-19 clusters in China, continues to weigh on near-term demand.
Most companies have streamlined their portfolios and may find themselves in somewhat better shape to cope with the varying demand-supply dynamics.
key oil & gas market developments