US oil and gas industry sees a drop of 32.9% in deal activity in June 2020
A total of 47 deals worth $6.23bn were announced in June 2020, compared to the 12-month average of 70 deals.
M&A was the leading category in the month in terms of volume with 35 deals which accounted for 74.5% of all deals.
In second place was venture financing with ten deals, followed by private equity with two transactions, respectively accounting for 21.3% and 4.3% of overall deal activity in the country's oil and gas industry during the month.
In terms of value of deals, M&A was the leading deal category in the US oil and gas industry with total deals worth $5.95bn, followed by private equity deals totalling $280.11m.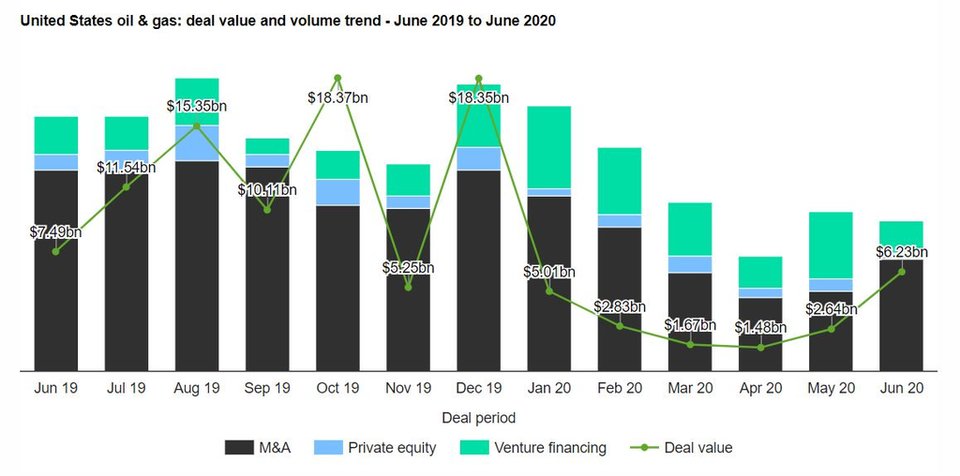 US oil and gas industry deals in June 2020: top deals
The top five oil and gas industry deals accounted for 93.4% of the overall value during June 2020.
The combined value of the top five oil and gas deals stood at $5.82bn, against the overall value of $6.23bn recorded for the month.
The top five oil & gas industry deals of June 2020 tracked by GlobalData were:
1) Ineos Group's $5bn asset transaction with BP
2) The $402m acquisition of Antero Resources by TPG Sixth Street Partners
3) Hilco Redevelopment Partners' $225.5m asset transaction with Philadelphia Energy Solutions
4) The $100m asset transaction with Black Stone Minerals by Pegasus Resources
5) Presidio Petroleum's asset transaction with Templar Energy for $91m.
Petrobras sells ten offshore fields to Trident Energy's subsidiary
Brazilian state-owned operator Petróleo Brasileiro (Petrobras) has sold its entire stake in the ten fields that comprise the Pampo and Enchova clusters in shallow waters in the Campos Basin to Trident Energy's subsidiary Trident Energy do Brasil.
Located off the coast of Rio de Janeiro, the Pampo and Enchova Hubs include the Enchova, Enchova Oeste, Marimbá, Piraúna, Bicudo, Bonito, Pampo, Trilha, Linguado, and Badejo fields.
Halliburton and TechnipFMC launch subsea fiber optic solution Odassea
Oil field services firm Halliburton and global energy firm TechnipFMC have launched Odassea, which is claimed to be the first distributed acoustic sensing solution for subsea wells.
The Odassea service integrates hardware and digital systems, allowing operators to execute intervention-less seismic imaging and reservoir diagnostics to reduce ownership cost.
Berkshire Hathaway Energy to acquire Dominion Energy's gas division
Iowa-based US renewable energy company Berkshire Hathaway Energy, a subsidiary of Warren Buffett's Berkshire Hathaway, has announced its agreement with Virginia-headquartered company Dominion Energy to acquire its natural gas transmission and storage business.
Chesapeake Energy files for bankruptcy with $7bn outstanding debt
US-based shale gas giant Chesapeake Energy has filed for bankruptcy in its home state of Texas, the business announced on Sunday. The company was once the second-largest US gas producer, but has taken a large hit from Covid-19 .
In a statement, the company said it will begin a reorganisation to reduce approximately $7bn of outstanding debt.
Consortium to buy 49% stake in ADNOC Gas Pipelines Assets
UAE's Abu Dhabi National Oil Company (ADNOC) has reached a $20.7bn gas infrastructure deal with a consortium of investors.
The group consists of six investors, namely Global Infrastructure Partners (GIP), Brookfield Asset Management, Ontario Teachers' Pension Plan Board, Singapore's sovereign wealth fund GIC, NH Investment & Securities, and Snam.