- ECONOMIC IMPACT -
Covid-19 infection rates continue to rise, with more than three million new cases in the US alone reported between 31 May and 27 June this year.
Deaths from Covid-19 continue to be high, with more than 1,000 deaths reported between 31 May and 27 June in Germany, Russia and Italy, and more than 10,000 in the US over this period.
The vast majority of cases involve viruses descended from the omicron variant, with 96.1% of cases in Brazil of this lineage as of 20 June, the most in the world.
India has seen the greatest increase in cases descended from the omicron variant, with the prevalence of all cases involving this variant increasing by two percentage points in the two weeks to 20 June.
Covid recovery in the Americas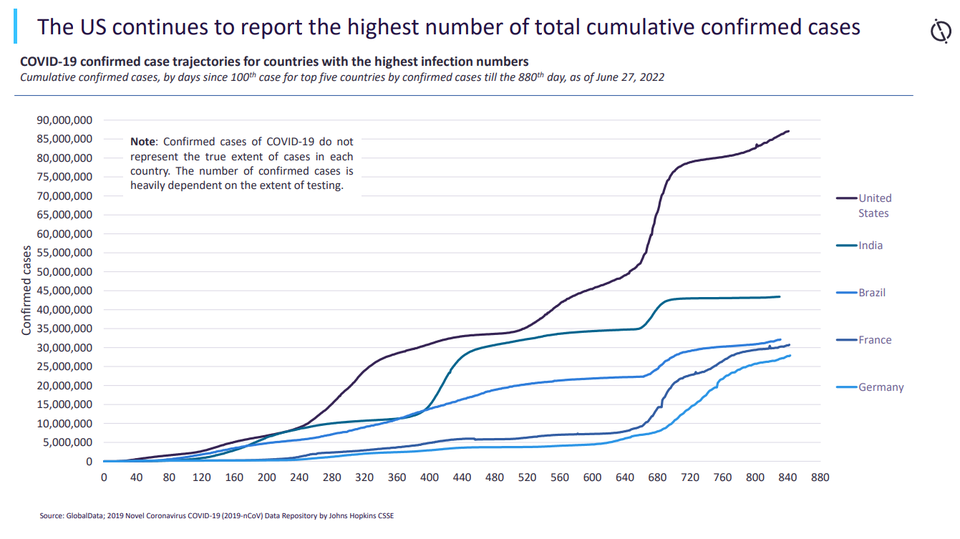 OIL PRICES
Since the end of February 2022, oil prices have rallied to multi-year highs after the US and its allies in the West imposed a barrage of economic sanctions on Russia following Ukraine's invasion. This has had a greater impact on oil prices than Covid-19 in recent weeks.
OPEC+ PRODUCTION
In July 2021, OPEC+ decided to phase out its planned oil production cuts by September 2022 due to rising oil prices across the sector, driven by the sanctions aimed at Russia and uncertainty amid the pandemic.
RUSSIAN EXCLUSION
On 8 March, the US banned imports of Russian energy while the UK announced its plans to phase out Russian oil imports by the end of 2022. Subsequently, the May contract of Brent futures on the Intercontinental Exchange settled at $130.70 per barrel.
CHINESE RESURGENCE
The resurgence of Covid-19 in China is a stark reminder that the pandemic could still affect energy demand outlooks. Nevertheless, the ongoing military conflict in Ukraine will be key in determining the future global demand-supply trend.