Enhanced Process Efficiency & Safety
For Gas Production, Processing, Distribution & Storage Applications

Intelligent Level Monitoring
Differential pressure gauge w/ transmitter
Level measurements in closed tanks, particularly in cryogenic applications incl. LNG
Filter monitoring
Pump monitoring and control
For gaseous and liquid media that are not highly viscous or crystallising and have no suspended solids
Optimised logistics planning for the refilling of the tanks – by intelliMETRY® remote data transfer (GSM)
Usage-based and event-driven alarms incl. leak monitoring
Continuous tracking of static pressure & level (dp) inside the tank
High checking frequency: 1 check/min (voltage supply), 4 checks/h (battery supply)
ProPak/FlowPak flow meter
Gas processing, distribution, storage, LNG, FLNG
Oil production and refining
Chemical and petrochemical
No upstream and downstream piping requirements
Energy Efficiency - pressure loss has been reduced to a minimum
Highest accuracy - ±0.5 - 0.75 % uncalibrated ±0.25 % calibrated
Custody transfer measurements per API 22.2
Significant cost savings in larger, more expensive line sizes
Installation versatility in tight piping systems
Pressure Calibration & Testing
Precision digital pressure gauge - Model CPG1500
Integrity testing of gas storage tanks, vessels and pipelines
Pressure calibration and comparison of lower accuracy analog gauges
100% control of gas tank/vessel and pipeline tightness
Easy to access - Communication with WIKA-Cal software over WIKA-Wireless
Easy data analysis and documentation
Easy to operate → No manual? No Datasheet?
No problem!
Tough and durable by design
Sapphire-design thermocouple - Model TC84
GtL reactors (Gas-to-Liquids)
Gasification reactors
Sulphur recovery plants
3 times longer service life in comparison to purely ceramic protection
High process safety with processes up to 1,700 °C and 65 bar
Reduction of unplanned downtime
Increased safety through double sealing system
Cost savings through the elimination of a purge system
Thermowell in ScrutonWell® design
Oil & Gas industry, on/offshore, plant construction
For highest process loads, high stream velocities
Application in critical measuring points
Improved reliability - Oscillation can be dampened by more than 90%1) in comparison to a standard thermowell stem design.
Safer operation - minimized risk of thermowell rupture for safer process operation with no environmental impact
Improved efficiency - Suitable for high flow rates in pipelines with small nominal widths
Simplified installation and dismounting - Elimination of support collars and their disadvantages such as additional costs or rework
Sight glass level indicator - Bull's Eyes Type
Applications with very high process pressures of up to 600 bar
Gas processing, gas reinjection, CNG, FPSO
Provides a technical solution where conventional bypass level gauges fail to meet high pressure and low density requirements
Reliable measurement without need for any power supply
Direct indication of the level from all directions
Longevity through flexible material selection for perfect adaptation to process requirements
Tailorable to individual requirements – engineered solutions
More than simply a reliable partner of high quality measuring instruments.
As a family-run business with over 9,300 quality qualified employees, the WIKA group of companies offers pressure, temperature, level and flow measuring instruments as well as calibration technology.
From engineered solutions to standard products, our instrumentation is used worldwide in the oil and gas industry incl. the entire value chain of gas production, processing, distribution & storage. Wherever you are in the world, WIKA can serve as your partner for electronic and mechanical measurement.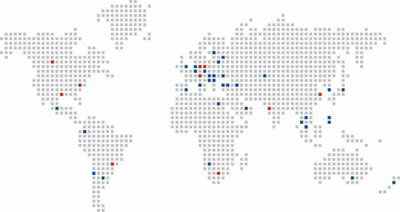 Global presence in over 43 countries